China Hydraulic Excavator C240 with CE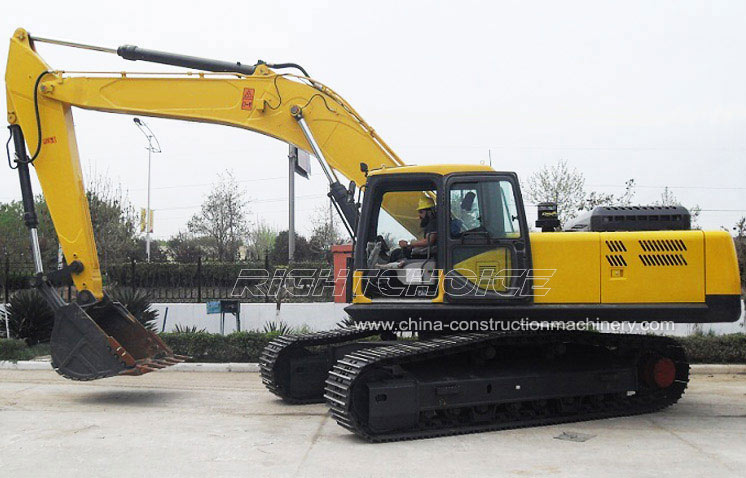 C240 China Hydraulic Excavator - Specifications
Basic Dimensions
Operate weight
23600 kg
52029 lbs
Total length of track
4256 mm
168"
Bucket capacity M3
0.92
Cabin height
3007 mm
118"
Engine model
Cummins / ISUZU
Upper structure width
2700 mm
106"
Engine power
113 / 125 kW
151 / 168 hp
Undercarriage width
2980 mm
117"
Swing speed
10.5 rpm
Overall height
3205 mm
126"
Ground pressure
45 Kpa
Overall length
10004 mm
394"
Travel speed
5.5 / 3.3 km/h
3.4 / 2 mph
Rear swing radius
2945 mm
116"
Arm digging force
191 kn
Ground clearance
470 mm
19"
Gradeability
35°
Clearance under counter weight
1075 mm
42"
Hydraulic tank capacity
230 L
Track spacing
2375 mm
94"
Fuel tank capacity
410 L
Track width
600 mm
24"
Tumblers distance
3480 mm
137"
Additional Specifications
Japanese Kawasaki main pump
Working Range
Japanese KYB valve
Digging radius
10240 mm
403"
Japanese Kawasaki Swing motor
Digging depth
6527 mm
257"
Japanese KYB Travel motor
Digging height
9980 mm
393"
Italian valve, pilot control lever
Dumping height
7170 mm
282"
Italian valve, pilot control lever
Vertical wall digging depth
6140 mm
242"
Swing radius
3404 mm
134"
Delivery time: 20 - 30 days

FOB: Qingdao, CHINA

Guarantee: 12 months
C240 Excavator with CE - Features & Specifications
China Hydraulic Excavator - The C240 excavators are used in earthworks, construction sites and large mining operations. This 24 ton excavator's high durability has been achieved thanks to its enhanced boom and arm, large counterweights and reinforced chassis and platform. Its design ensures powerful digging (191 kN bucket digging force) under the most extreme conditions.
The cabin has been designed to increase leg space, visibility angles and comfort. Its adjustable seat, high sensitivity joystick and low noise environment are only some of the features which help reduce fatigue caused by long working hours and thus increase the operator's productivity. From here the operator has total control over all functions of the vehicle and is able know how the machine is performing due to its multifunctional dashboard.
1. Engine - ISUZU / Cummins
Their extremely high efficiency have made the Isuzu 6BG1TRP-02 and Cummins 6B5.9-C the chosen engines to power the C240 excavator. These low fuel consumption, high power engines combined with advanced imported hydraulic systems have made the C240 one of the most reliable excavators manufactured in China.
2. Dimensions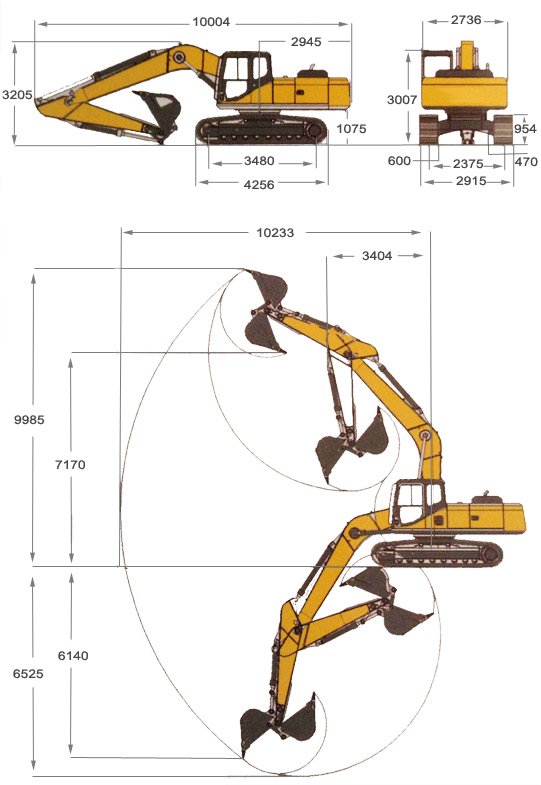 3. Loading
Nude packing - Roller vessel. FOB: Qingdao, Shandong Province CHINA
For a quotation on the C240 or any of our excavators please feel free to
send us a message
.