RC08 Small Loader
ZL08 Wheel Loader Model
RC08 - ZL08 wheel loader model - Engine
Basic Dimensions
Model
Changchai CZ2102
Length
4700 mm
185"
Type
Direct injection, water-cooled, 4 stroke
Width
1200 mm
47"
Cylinders
2
Height
2300 mm
91"
Starting
Electric Starting Motor
Bucket capacity
0.4 m³
Power
25 kW
34 hp
Dumping height
2400 mm
95"
Speed
2400 rpm
Dumping reach
700 mm
28"
Torque
113.5 Nm
Wheel base
2100 mm
83"
Thread
1400 mm
55"
Performance
Operating weight
2800 kg
6173 lbs
Additional Specifications
Lifting weight
800 kg
1764 lbs
Steering system
Articulated hydraulic steering
Sum work device
9 sec
Max. turning angle
35°±1
Distribution of work valve
DF15.2C
Min turning radius
3400 mm
133"
Working pump
CBF32
Tyre features
31*15.0-15
Delivery time: 20 days

FOB Qingdao, CHINA

Minimum Order: 1 unit

Guarantee: 12 months
+ Pictures of RC08
RC08 Wheel Loader with CE - ZL08 wheel loader model
The newest of our wheel loaders, the RC08 (ZL08F model) is a small sized four-wheel drive wheel loader with a 800 kg (1764 lb) lifting capacity. Its compact size makes it the ideal machine for farms and worksites which require a loader that is both powerful and capable of working in narrow spaces.
Its high quality (CE certified) and affordable price has made this small loader extremely popular in Canada, Europe and Australia. We manufacture a number of optional attachments such as pallet forks, snow blades, 4 in 1 buckets and quick hitches. These optional attachment allow the RC08 (ZL08F model) to efficiently perform an even wider array of tasks in the field.

1. Engine - Changchai CZ2102
Changchai CZ2102 is a 2 cylinder, 102 mm bore, in-line, water cooled, 4-stroke diesel engine. It has a 35 hp (25 kW) with a 2400 rpm rated speed. It has a maximum torque of 113.5 N.m at 1,950 rpm. Its optimized design and dynamic performance allows for good interchangeability and easy maintenance.
2. Dimensions & Loader Capacity
The RC08's (ZL08F model) has a 4700 mm (185") total length, 1200 mm (47") width and 2300 mm (91") height. Its compact design, 2800 kg (6173 lb) weight and 800 kg (1764 lb) rated load guarantees maximum performance even in confined spaces.
3. Controls & Drive System
The RC08's (ZL08F model) luxury cabin provides the driver with a superior working space. Its shock absorbing adjustable seat, warm cabin heater, wide views and additional leg space improve the driver's experience.
Its four-wheel drive (4WD) with oscillating rear axle and 31*15.0-15 off-road tires allow this loaders to perform optimally off-road. The transmission system is composed of a hydrostatic transmission designed to maximize the engine's power output efficiency. It has an articulated hydraulic steering system with 35° maximum turning angles and a 3400 mm minimum turning radius.
4. Photos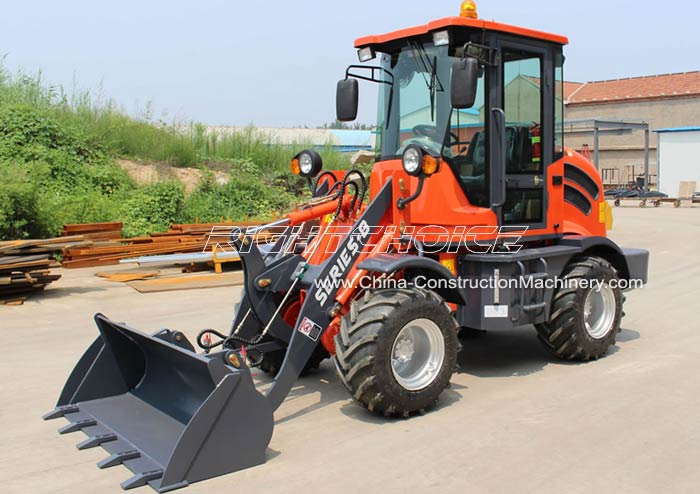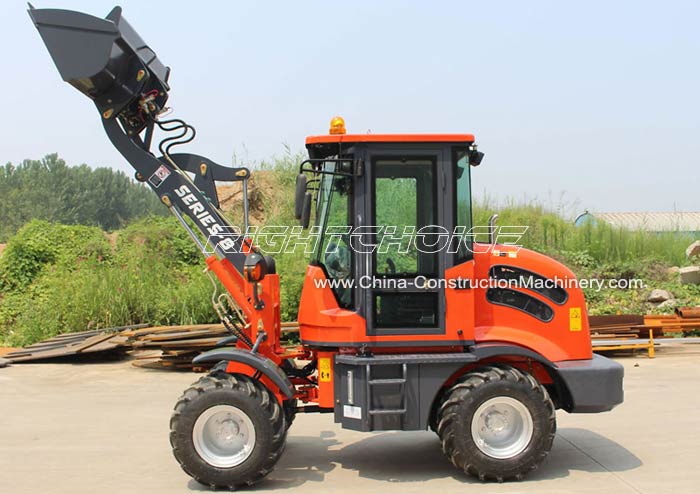 More pictures of the RC08 Wheel Loader - ZL08f wheel loader model

The RC08 (ZL08F model) has one of the most competitive prices in the market. This small sized compact wheel loader is ideal for those looking for an affordable and durable ZL08 wheel loader model. For a quotation please do not hesitate to contact us by using the below form or by sending us an email.