Construction Machinery Exporter
Chinese Excavators C220 with CE
C220 Construction Machinery Exporter - Specifications
Basic Dimensions
Operate weight
21800 kg
48061 lbs
Total length of track
4174 mm
164"
Bucket capacity
0.92--1 m³
Cabin height
3007 mm
118"
Engine model Cummins 6B5.9-C / ISUZU 6BG1TRP-02
Upper structure width
2700 mm
106"
Engine power
112 kW
150 hp
Undercarriage width
2810 mm
111"
Swing speed
10.5 rpm
Overall height
2780 mm
109"
Ground pressure
45 Kpa
Overall length
9650 mm
380"
Travel speed
4.8 / 3.3 km/h
3 / 2 mph
Rear swing radius
2940 mm
116"
Arm digging force
115 kn
Ground clearance
465 mm
18"
Gradeability
35°
Clearance under counter weight
1075 mm
422"
Hydraulic tank capacity
230 L
Track spacing
2210 mm
87"
Fuel tank capacity
410 L
Track width
600 mm
24"
Tumblers distance
3480 mm
137"
Additional Specifications
Japanese Kawasaki main pump
Working range
US Parker valve, tracking motor or
Digging radius
9982 mm
393"
Japanese KYB valve, tracking motor
Digging depth
6622 mm
261"
US Eaton swing motor, travel motor or
Digging height
9960 mm
392"
Japanese Kawasaki swing motor, travel motor
Dumping height
7000 mm
276"
Italian valve, pilot control lever
Vertical wall digging depth
6100 mm
240"
Min. swing radius
3203 mm
126"
Delivery time: 20 - 30 days

FOB: Qingdao, CHINA

Guarantee: 12 months
C220 Excavator with CE - Features & Specifications
Construction Machinery Exporter & Manufacturer - The C220 excavator is a combination of the latest technological advances in design and the development of a new type of wide adaptable excavators. This 22 ton excavator's superior performance has been achieved thanks to the use of high strength materials, a reinforced arm and boom and the use of imported components such as its main pump, tracking motor, engine, swing motor and pilot control lever.
Its advanced electronic control system optimizes the machine's movement coordination and efficiency. From the cabin the operator has full control over all operational elements. Special care has been paid to designing the cabin's interior in order to maximize comfort for the operator.

1. Engine - ISUZU 6BG1TRP-02 / Cummins 6B5.9-C
The low fuel consumption Isuzu 6BG1TRP-02 and Cummins 6B5.9-C engines power the C220 excavator, making it one of the most high-efficiency and low-energy consumption excavators. Both engines ensure the machine's high reliability and durability.
2. Dimensions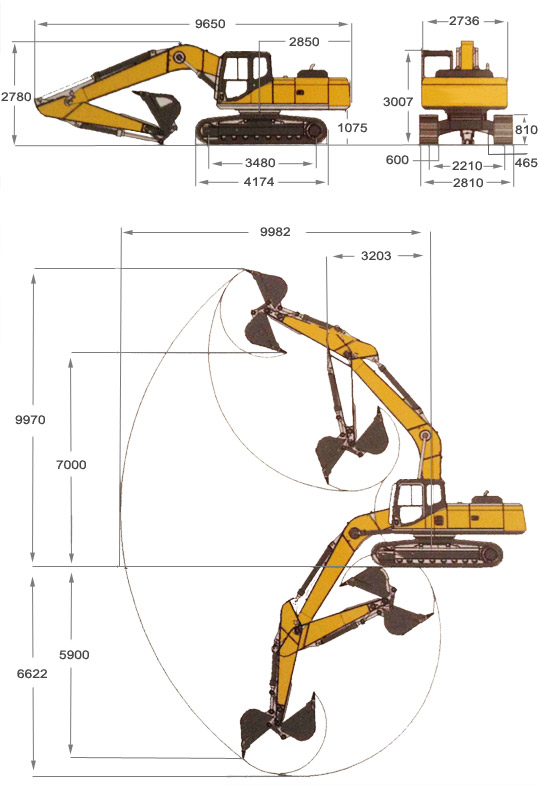 3. Loading
Nude packing - roller vessel. FOB: Qingdao, Shandong Province, CHINA.
A friendly sales member will answer any questions you may have. Please use our contact form below or alternatively you can send us an email.