Construction Machinery Manufacturers
Wheel Loader RC10 with CE
Construction Machinery Manufacturers RC10 - Engine
Basic Dimensions
Model*
Changchai 490/485

Length
5100 mm
201"
Power
29 / 26 kW
39 / 35 hp
Width
1700 mm
70"
Speed
2400 rpm
Height
2530 mm
100"
Torque
YJ240 model
Min. ground clearance
260 mm
10"
Fuel consumption
<230 g/kw.h
Max. dumping height
2650 mm
104"
*Optional: Xinchai 490/498, Perkins and Cummins engine
Dumping reach
1050 mm
41"
Wheel base
2100 mm
83"
Performance
Operating weight
3480 kg
7668 lbs
Additional Specifications
Loading weight
1000 kg
2205 lbs
Min. Turning radius
3600 mm
142"
Driving speed
16 Km/h
10 mph
Max breakout force
36 Kn
Lifting time of bucket - full load
3.3 sec
Tire (larger tire on demand)
8.25-16
Falling time of bucket - idle load
2.2 sec
Max. turning angle
35°±1
Delivery time: 20 - 30 days

FOB Qingdao, CHINA

Minimum Order: 1 Unit

Guarantee: 12 months
RC10 Wheel Loader with CE - Features & Specifications
Construction Machinery Manufacturers - The RC10 wheel loader incorporates the latest technological advancements in both engineering and comfort. The improvements made to the RC10 wheel loader are thanks to the recommendations made by our most valuable source, our customers. As a result the RC10 model is an outstandingly easy-to-use and reliable machine able to perform optimally in almost all conditions.

The RC10 has an operating weight of 3480 kg, a loading weight capacity of 1000 kg (1 ton) and a standard bucket size of 0.6 m³. Larger buckets are also available on request. The attachments we manufacture for this wheel loader makes this machine an affordable and indispensable piece of equipment for any farm, constructions site and small to medium size civil worksite.
1. Engine - Changchai 490 (Perkins and Cummins optional)
A leading brand in the Chinese market Changchai engines are known for their high performance and durability. The 490 model has been optimally design to ensure high efficiency, minimum vibration and easy maintenance. Changchai 490 is a 4 cylinder (90 mm bore), water cooling, four stroke diesel engine. It has a rated power of 29 kW at 2400 r/min. Its torque is of 167 N.m at a rotating speed of 2400 r/min. We also manufacture the RC10 with Xinchai 490/498 engines (right picture), Perkins engines and Cummins engines according to our customers' requirements.

2. Dimensions & Loader Capacity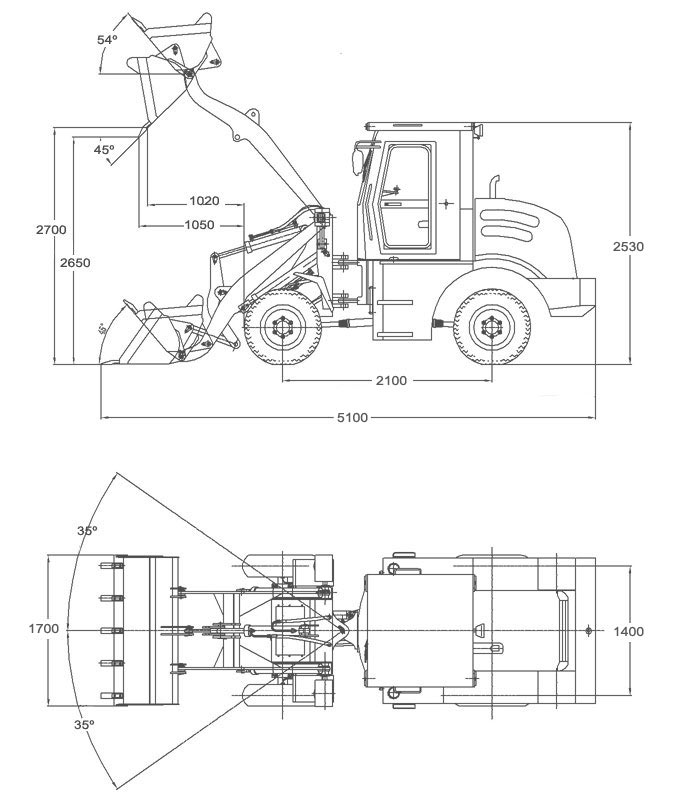 Compact and powerful the RC10 wheel loader has been optimally designed to maximize stability while ensuring maximum output efficiency. The RC10 has a full length (bucket on ground) of 5100 mm and full width of 1700mm with 35° steering angles and 12° hunting angles. This allows the RC10 to excel both off-road and in closed spaces such as in warehouse facilities.
3. Controls & Drive System
With maximum leg-space and comfort in mind, the RC10 has been fit with a luxury cabin, E-mark seat, adjustable steering wheel, back rear camera and mechanical joystick. These features allow the operator to conduct all tasks in a totally relaxed environment, ultimately increasing productivity.

The RC10 drive system is composed of a YJ1 240 torque converter, a fixed-spindle power shift gear box with 2 advance and 2 reverse positions and 35-40 kW transmission power. The drive pump is a CBN-E316 model (16 ml/r) and the main retarder is an arc cone gear first reduction type with a 6:37 drive ratio.
4. Photos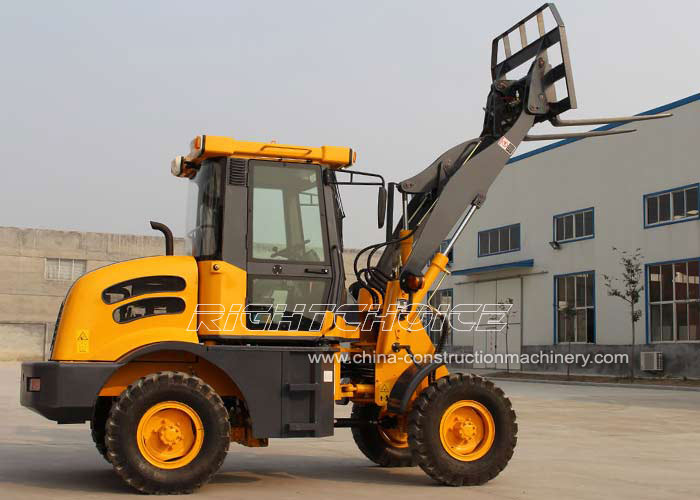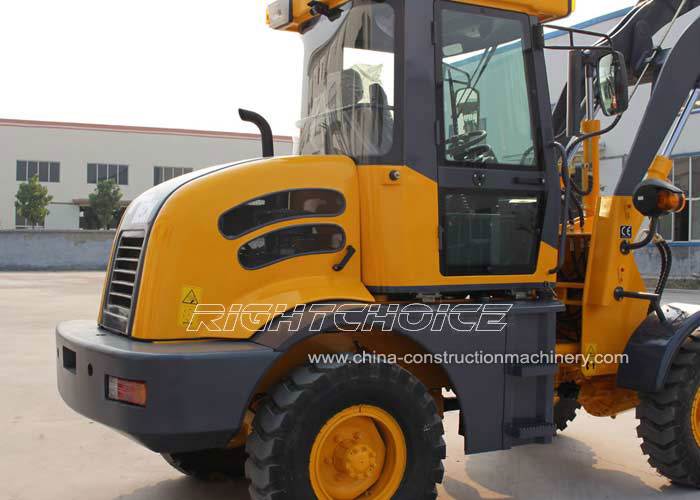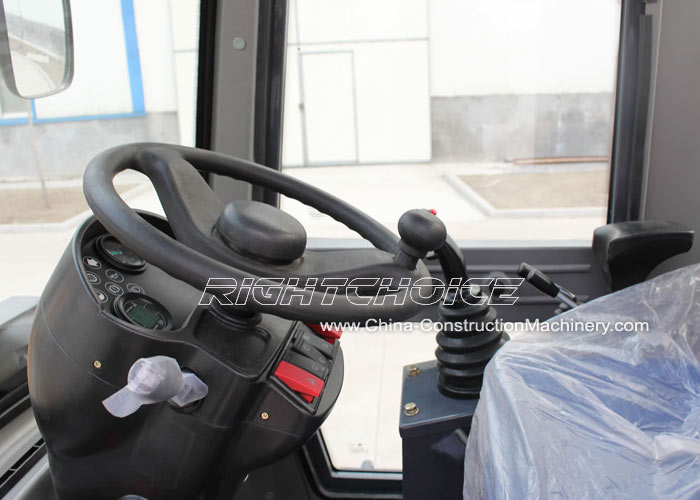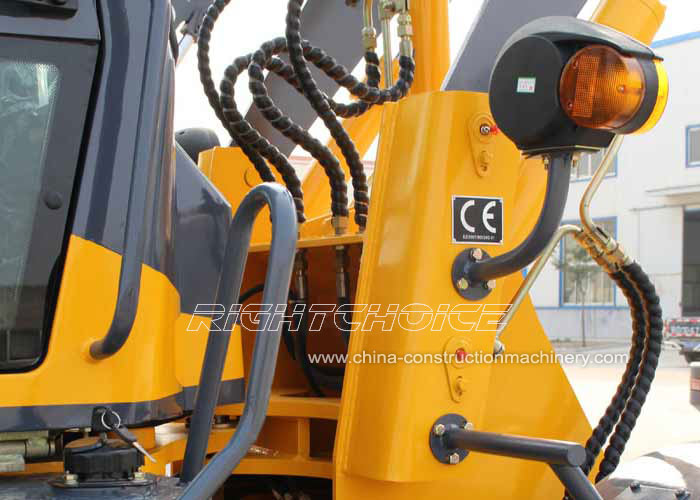 Click for more pictures of RC10 wheel loader
5. Attachments
We make numerous attachments for the RC10 wheel loader model. This includes 4-in-1 buckets, snow buckets, V snow blades, flat buckets, grass forks, sweepers, barrel grapples, etc.
We are one of the most reliable and flexible construction machinery manufacturers in China and are able to quickly make any modifications to the machines. You can inquire about any of our wheel loaders by contacting one of our RIGHT CHOICE construction machinery manufacturers friendly sales members.