Chinese Excavator - C85 with CE
China Heavy Machinery Manufacturers
C85 Chinese Excavator - Specifications
Basic Dimensions
Operate weight
8200 kg
18077 lbs
Upper structure width
2190 mm
86"
Bucket capacity
0.34 m³
Undercarriage width
2100 mm
83"
Engine model Cummins B3.3 / Yanmar 4TNV98T
Overall height
2600 mm
102"
Engine power
60 kW / 55kW
82hp / 75hp
Overall length for transportation
6430 mm
253"
Swing speed
11 rpm
Rear swing radius
1835 mm
72"
Ground pressure
39 Kpa
Ground clearance
370 mm
15"
Travel speed
5.3/3.6 km/h
3.3/ 2.2 mph
Clearance under counter weight
785 mm
31"
Tracking force
70.8 kn
Gradeability
30°
Working Range
Digging radius
6810 mm
268"
Additional Specifications
Digging depth
4375 mm
172"
Japanese KYB main pump
Digging height
7310 mm
288"
Japanese KYB valve, tracking motor
Dumping height
4895 mm
193"
Jeil Travel Motor
Dozer cutting depth
430 mm
17"
Italian valve, pilot control lever
Dozer lifting height
310 mm
12"
Delivery time: 20 - 30 days

FOB: Qingdao, CHINA

Guarantee: 12 months
C85 Excavator with CE - Features & Specifications
Chinese Excavator C85 with CE - The C85 excavator has been developed to maximize power and stability. This has been made possible by optimizing the arm, boom and the body's design and arrangements, together with the use of key imported components like its hydraulic pump, valve, travel motor and engine. The result, an extremely durable and efficient excavator with a strong digging force.
The C85's luxury cabin maximizes operational performance by providing the operator with an outstanding working environment. Its low noise, low vibration interior together with its multifunction dashboard and high sensitivity joystick are only some of the advanced features used in the C85 excavator. These have made the C85 excavator one of the most easy to operate and popular 8 ton excavators in the market place today.
1. Engine - Cummins B3.3 / Yanmar 4TNV98T
A guarantee of high performance the C85 is manufactured with both Cummins B3.3 and Yanmar 4TNV98T engines. With 82 hp (60 kW) and 75 hp (55 kW) respectively, these two highly efficient engines are both powerful and easy to maintain.
2. Dimensions & Loader Capacity
3. Photos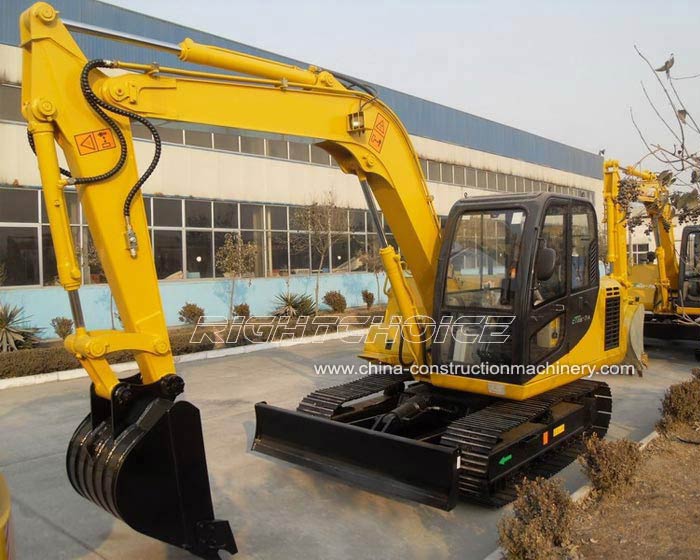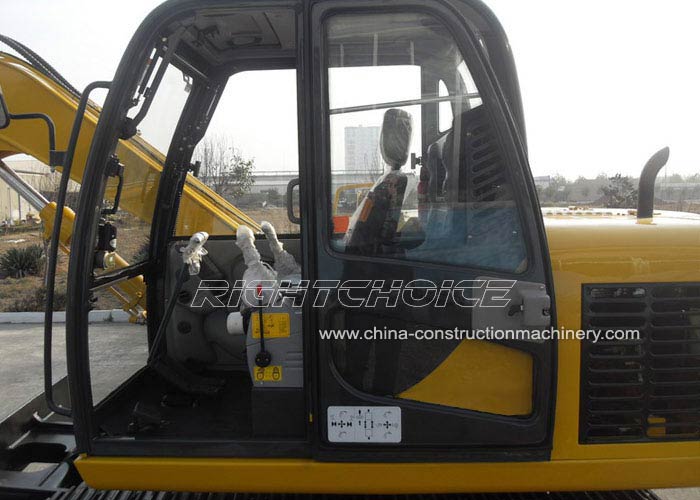 4. Attachments excavators
- 300 mm bucket with 2 teeth
- 420 mm bucket with 2 teeth
- 470 mm bucket with 3 teeth
- 780 mm bucket with 5 teeth standard bucket
- 860 mm tilting bucket with 5 teeth
- 1050 mm tilting bucket with 6 teeth
- 1100 mm tilting bucket without teeth
5. Loading
Container body size 40HQ: 12000 * 2130 * 2720 (LxWxH) load 2 units in one 40HQ container. Please send us a message for a quotation on the C85 excavator or on any of our high quality Chinese excavator models.