Exporter of Excavators and Parts Chinese
Excavator C360 with CE
C360 Exporter of Excavators and Parts - Specifications
Basic Dimensions
Operate weight
33000 kg
72753 lbs
Total length of track
4940 mm
195"
Bucket capacity
1.4 m3
Cabin height
3125 mm
123"
Engine model
ISUZU 6BG1TRP-01
Upper structure width
3195 mm
126"
Engine power
184 kW
247 hp
Undercarriage width
3190 mm
126"
Swing speed
10 rpm
Overall height
3230 mm
127"
Ground pressure
65.3 Kpa
Overall length
11150 mm
439"
Travel speed
5.0 / 3.1 km/h
3.1 / 1.9 mph
Rear swing radius
3425 mm
135"
Arm digging force
259 kn
Ground clearance
500 mm
20"
Gradeability
50° (70%)
Clearance under counter weight
1220 mm
48"
Hydraulic tank capacity
260 L
Track spacing
2590 mm
102"
Fuel tank capacity
630 L
Tumblers distance
4050 mm
159"


Additional Specifications
Working Range
Japanese Kawasaki main pump
Digging radius
1100 mm
43"
Japanese KYB valve, tracking motor
Digging depth
7380 mm
291"
Japanese KYB tracking motor
Digging height
100078 mm
3940"
Italian valve, pilot control lever
Dumping height
7110 mm
280"
Loading roll over packing
Vertical wall digging depth
6460 mm
254"


Min. Swing radius
4348 mm
171"
Delivery time: 20 - 30 days

FOB: Qingdao, CHINA

Guarantee: 12 months
C360 Excavator with CE - Features & Specifications
Exporter of Excavators and Parts - The C360 excavator is the biggest and most powerful of our excavators. With an operating weight of 36 tons and a 259 kn digging force, this machine has been developed to operate from large earthwork operations and construction sites to large-scale mining projects.
The C360's has been designed to ensure both the cab driver's safety and comfort. Selected international brands have been chosen for its hydraulic and power systems to maximize its performance. In order to increase the machine's durability its boom, arm and platform have been additionally reinforced.
1. Engine - ISUZU 6BG1TRP-01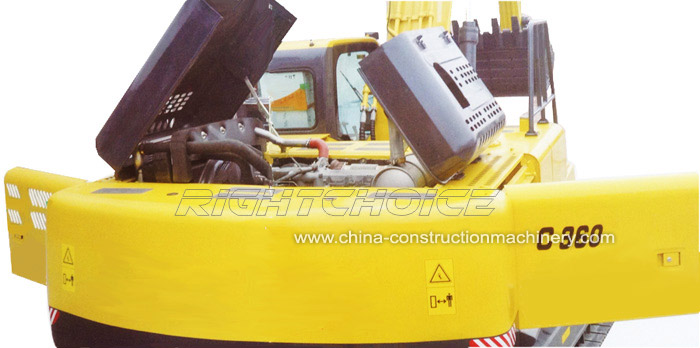 To tackle the toughest of jobs the C360 excavator has a 184 kW power (2000 rpm) imported Isuzu engine. The ISUZU 6BG1TRP-01 engine is is one of the most powerful engine we use on our excavtors.
2. Dimensions
3. Photos


4. Loading
Nude package - Roller vessel. FOB: Qingdao, Shandong Province.

Please feel free to send us a message using the below contact form.