China Loader Manufacturer
Wheel Loader RC15 with CE
RC15 China Loader Manufacturer - Engine
Basic Dimensions
Model*
Xinchai 490 (Euro III)

Length
5500 mm
217"
Power
37 kW
50 hp
Width
1850 mm
73"
Speed
2650 rpm
Height
2580 mm
102"
Torque
YJ240 model
Ground clearance
260 mm
10"
Fuel consumption
<225 g kw.h
Dumping height
2650 mm
104"
*Optional: Perkins and Cummins engine
Dumping reach
1050 mm
41"




Wheel base
2150 mm
85"
Performance
Operating weight
3980 kg
8774 lbs
Additional Specifications
Loading weight
1500 kg
3307 lbs
Turning radius
4000 mm
157"
Driving speed
20 km/h
12.4 mph
Breakout force
51 Kn
Lifting time of bucket - full load
3.3 sec
Tire (larger tire on demand)
12.00-16.5
Falling time of bucket - idle load
2.2 sec
Turning angle
35°±1


Delivery time: 20 - 30 days

FOB Qingdao, CHINA

Minimum Order: 1 unit

Guarantee: 12 months
China Loader Manufacturer RC15 with CE - Features & Specifications
China Loader Manufacturer - The RC15 wheel loader's great maneuverability allows for optimal performance even on the roughest of terrains. Its spacious cabin ensures both great visibility and comfort, maximizing the operator's productivity.

With an operating weight of 3980 kg, a 0.8 m³ standard bucket volume and 1500 kg loading weight capacity, the RC15 delivers an outstanding performance in a large array of fields. From construction and civil works, to forestry and environmental operations the RC15 is a durable and reliable vehicle.
1. Engine - Xinchai 490 (Perkins and Cummins optional)
A leading brand in the Chinese motor industry, Xinchai engines have proven to be one of the most reliable Chinese engines. This has made it the chosen standard engine model for our RC15 wheel loaders. The Xinchai 490 (Euro III & EPA) is both energy efficient and easy to maintain. The 490 model has a 36.8 kW power at a rated speed of 2650 r/min. We also manufacture the RC15 wheel loader with a variety of engines, including Perkins and Cummins engines. It all comes down to our customers' individual requirements and specifications.

2. Dimensions & Loader Capacity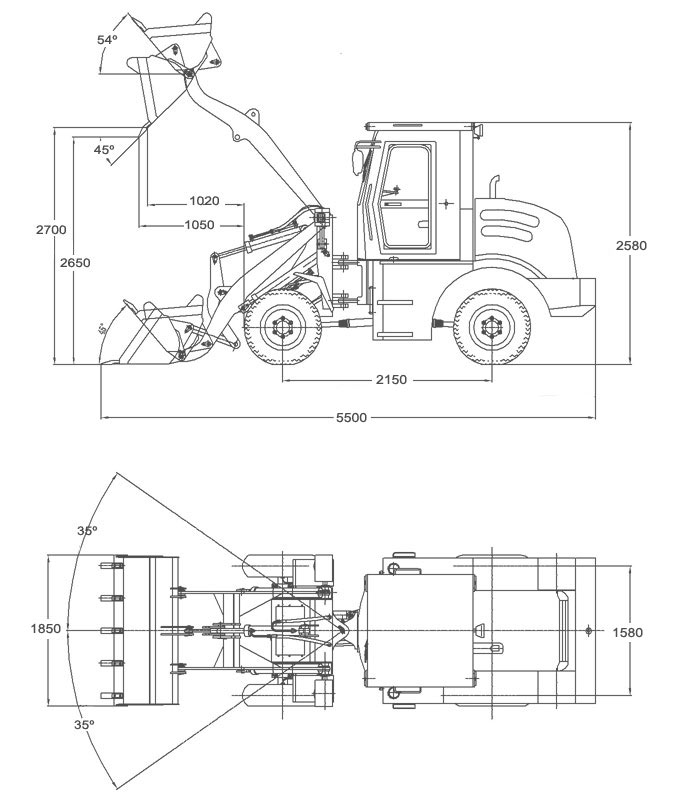 Thanks to our R&D department and to the valuable feedback from our customers, we have developed a wheel loader capable of working with loads of up to 1500 kg (1.5 t) effortlessly. Its 5500 mm full length, 1850 mm width and 2150 mm wheel base together with its energy saving engine makes the RC15 one of the most cost efficient 1.5 ton wheel loaders in the market today.

3. Controls & Drive System
In order to maximize the operator's comfort and productivity the RC15 wheel loader is built with an integrated luxury cabin, E-mark seat and adjustable steering wheel. The mechanical joystick allows the operator to have total control over the wheel loader.

The RC15 uses an YJ1 240 fluid torque converter with a 240 mm circulation diameter and a 36 kW input power at 2300 r/min. The torque is connected to a fixed-spindle power shift gear box with 2 advance and 2 reverse positions. The chosen standard drive pump is a CBN-E316 model and both the front and rear axis have an 820 mounting distance.
Click main 'RC15 Technical Performance Parameters'
4. Photos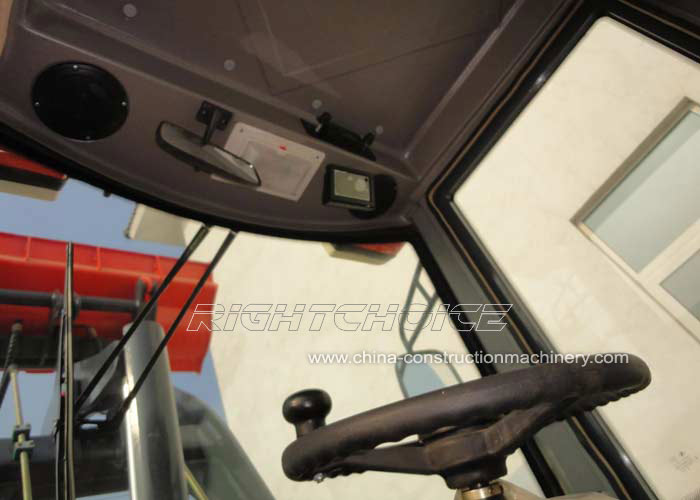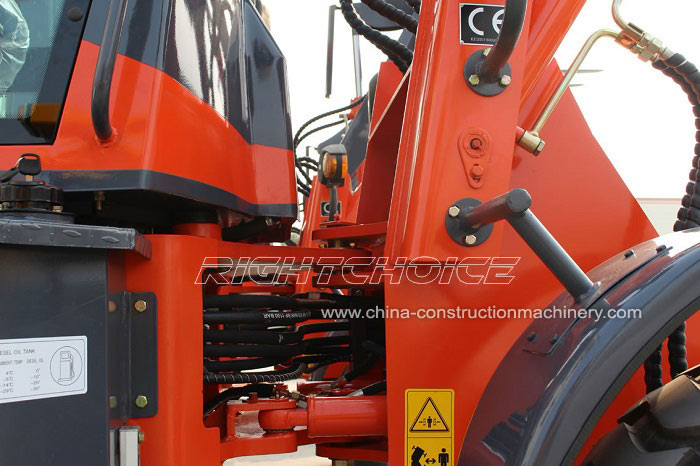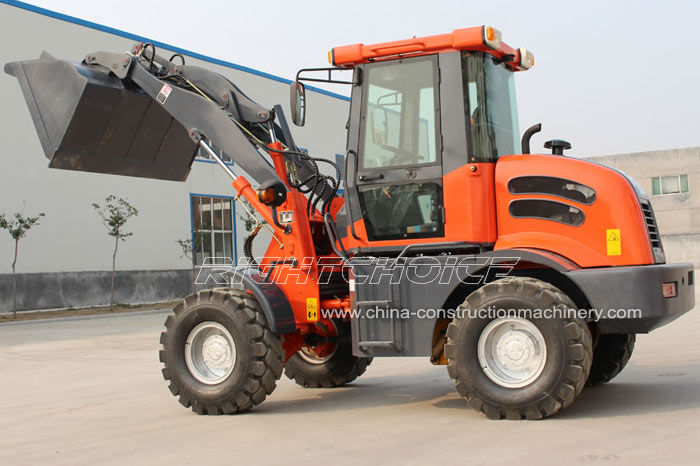 Click for more pictures of RC15 compact wheel loader
5. Wheel Loader Attachment
The RC15 wheel loader attachments include: wheel loader quick hitches, 4 in 1 buckets, sifting buckets, flat buckets, mixing buckets, pallet forks, side shift pallet forks, grass forks, grapples, waste grab, log grab, industrial bucket grapples, snow plows, snow blowers, 2 moving side snow blades, augers and sweepers.
Get a quick quotation from one of our friendly staff members by using the form below. Click here to learn more about RIGHT CHOICE China Loader Manufacturer.