Wheel Loader Suppliers & Manufacturers
RC12 with CE
RC12 Wheel Loader Suppliers - Engine
Basic Dimensions
Model*
Changchai 4L68

Length
5100 mm
201"
Power
37 kW
50 hp
Width
1700 mm
71"
Speed
2400 r/min
Height
2530 mm
100"
Torque
YJ240 model
Ground clearance
260 mm
10"
Fuel consumption
<230 g kw.h
Dumping height
2650 mm
104"
*Optional: Xinchai 490, Perkins and Cummins engine
Dumping reach
1050 mm
41"
Wheel base
2100 mm
83"
Performance
Operating Weight
3680 kg
8113 lbs
Additional Specifications
Loading Weight
1200 kg
2646 lbs
Turning radius
3600 mm
142"
Driving Speed
16 km/h
10 mph
Breakout force
45 Kn
Lifting time of bucket - full load
3.3 sec
Tire (larger tire on demand)
11.00-16
Falling time of bucket - idle load
2.2 sec
Turning angle
35°±1
Delivery time: 20 - 30 days

FOB Qingdao, CHINA

Minimum Order: 1 Unit

Guarantee: 12 months
RC12 Wheel Loader with CE - Features & Specifications
China Wheel Loader Suppliers - The RC12 wheel loader is a four-wheel drive with an oscillating back axle which makes it the ideal vehicle for both on and off-road works. The RC12 is used in a variety of fields from coal and gravel yards, to road constructions and small to medium-size civil construction works.
With a 3680 kg operating weight, a 1200 kg (1.2 ton) lifting capacity and a 0.7 m³ bucket size, this machine is able to perform optimally in confined and narrow sites due to its reduced minimum turning radius. The array of attachments available for the RC12 means that its operator can perform an endless number of tasks.
1. RC12 Engine - Changchai 4L68 (Perkins and Cummins Optional)

Changchai multi-cylinder engines are one of the most reliable and efficient engines in the Chinese market. It's compact size and dynamic structure enables optimal performance. The Changchai 4L68 is a 4 cylinder diesel engine with a 50 hp (37 kW) at a speed of 2400 r/min. Its in-line, water cooled, 4-stroke engine has a fuel consumption ratio of under 230 g/kw.h. It has a max. torque of 160-170 N.m at 2100-2600 r/min and is capable of enduring the toughest conditions. We also build the RC12 wheel loader with Xinchai 490/498, Perkins and Cummins engines according to our customers' requirements.
2. Dimensions & Loader Capacity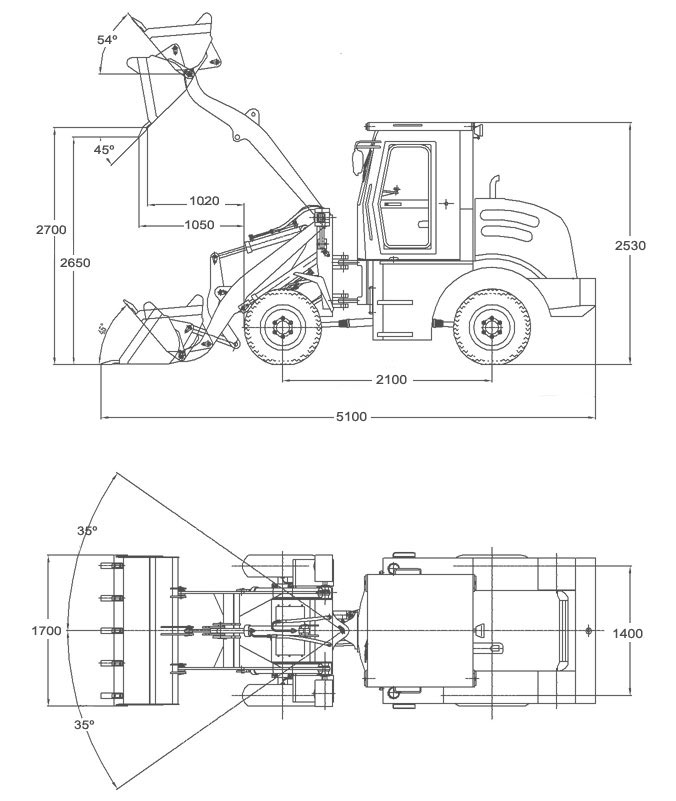 The RC12 model has a 5100 mm total length with its bucket on the ground, a 1700 mm width, a 2100 mm wheel base and a 260 mm minimum ground clearance. This durable compact wheel loader travels at a maximum speed of 16 km/h. As one of the most innovative wheel loader suppliers and manufacturers in China, we are proud to say that RC12 is one of the most stable and efficient 1.2 ton wheel loaders in the market today.

3. Controls & Drive System
The RC12's luxury cabin provides the operator a comfortable environment from where to carry out all operations. Its E-mark shock proof seat, adjustable steering wheel and mechanical joystick gives the operator total control over the machine with minimum effort.
The drive system consists of a YJ240, single-phase, single-stage radial-inward turbine triplex converter with a rated input speed of 2300 r/min. It has a fixed-spindle power shift gear box with two advanced and two reverse positions. Its transmission power is 35-40 kW at 2500 r/min. The drive pump used in this vehicle is a CBN-E316 gear pump at 16ml/r.
4. Photos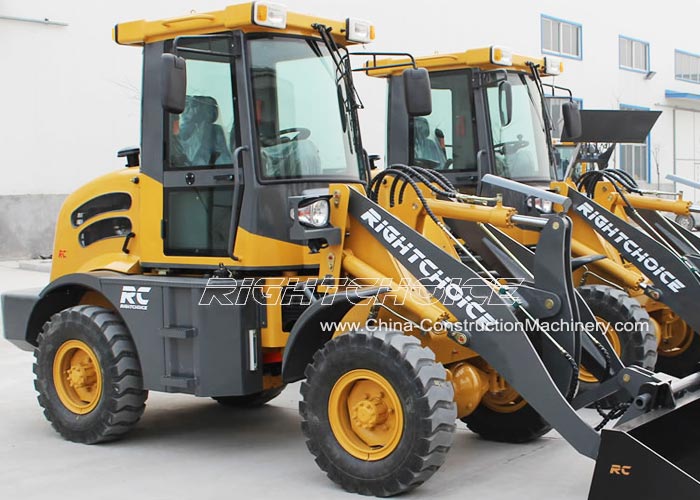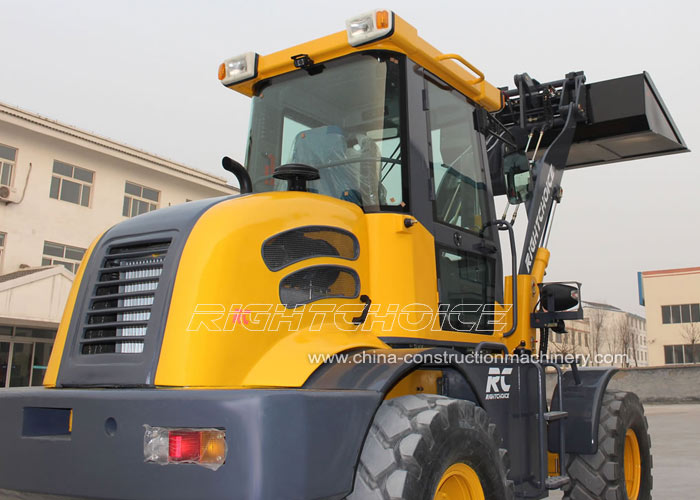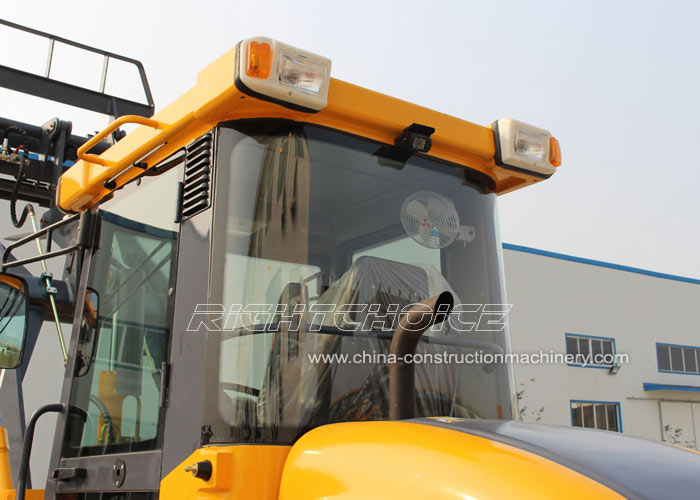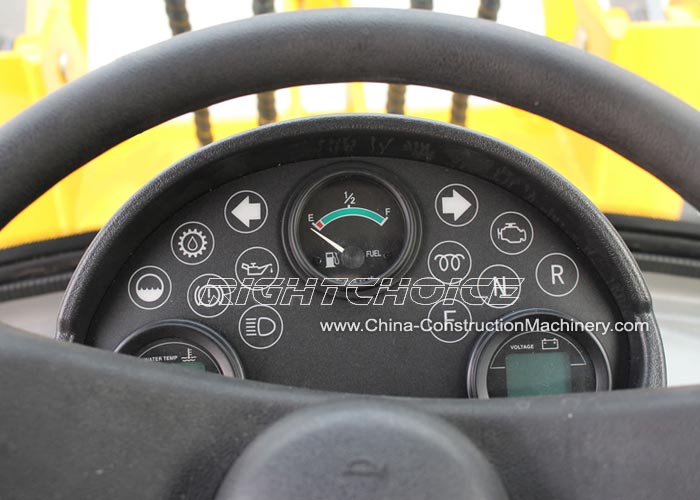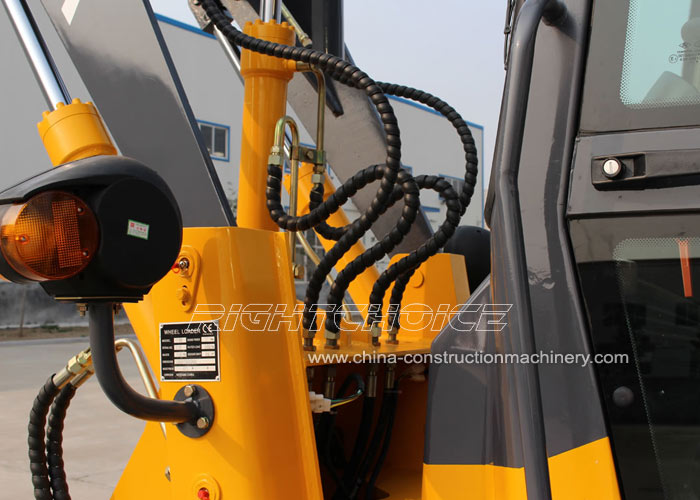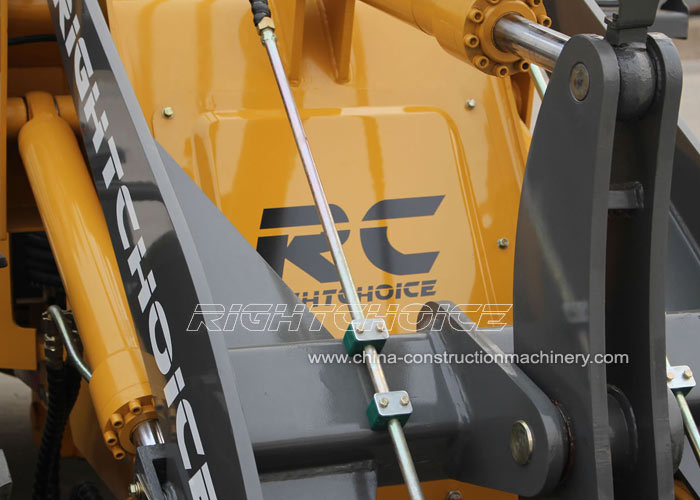 More pictures of RC12 compact wheel loader
5. RC12 Attachments
We manufacture an array of attachments for the RC12 model. This includes pallet forks, adjustable pallet forks, 2 moving side snow blades, V type snow blades, snow buckets, 4-in-1 buckets, flat buckets, selecting buckets, mixing buckets, wood grapples, barrel grapples, European type barrel grapples, grass forks, European type grass forks, sweepers and sand spray equipment.
As one of the leading Chinese wheel loader suppliers and manufacturers, we offer extremely competitive rates on all our construction equipment, high-quality and an excellent post-sales service. For a quotation on any of our heavy construction machinery please feel free to send us a message.