China Front End Loader
RC16 with CE
RC16 China Front End Loader - Engine
Basic Dimensions
Model*
Xinchai 498 (Euro III)

Length
5700 mm
224"
Power
37 kW
50 hp
Width
1850 mm
73"
Speed
2400 rpm
Height
2730 mm
108"
Torque
YJ240 model
Ground clearance
260 mm
10"
Fuel consumption
<225 g kw.h
Dumping height
2900 mm
114"
*Optional: Perkins and Cummins engine
Dumping reach
1050 mm
41"
Wheel base
2200 mm
87"
Performance
Operating weight
4020 kg
8863 lbs
Additional Specifications
Loading weight
1600 kg
3527 lbs
Turning radius
4000 mm
158"
Driving speed
20 km/h
12.4 mph
Breakout force
51 Kn
Lifting time of bucket - full load
3.3 sec
Tire (larger tire on demand)
20.5/70-16
Falling time of bucket - idle load
2.2 sec
Turning angle
35°±1
Delivery time: 20 - 30 days

FOB Qingdao, CHINA

Minimum Order: 1 unit

Guarantee: 12 months
RC16 Wheel Loader with CE - Features & Specifications
China Front End Loader - The RC16 wheel loader with CE is reliable and efficient compact wheel loader. Not only is it a durable and highly productive machine, but one which is high energy saving. Its cabin has specifically been designed to maximize both visibility and comfort. From a single joystick the operator has total control over all of the functions of this 4020 kg wheel loader with a lifting weight capacity of 1600 kg.

1. Engine - Xinchai 498 (Cummins and Perkins optional)
Powered by a 37 kW (50 hp) fuel efficient Xinchai 498 engine (Euro III), the RC16 wheel loader is able to perform optimally under all conditions. This 4 cylinder (98 mm) diesel engine has a rated speed of 2400 r/min and a 193 N.m acrotorque. The Xinchai 498 (Euro III) engine has a fuel consumption rate of under 225 g/kW/h and an oil consumption rate of under 1.0 g/kW/h. Under customers' request we also manufacture the RC16 with both Cummins and Perkins engines.

2. Dimensions & Loader Capacity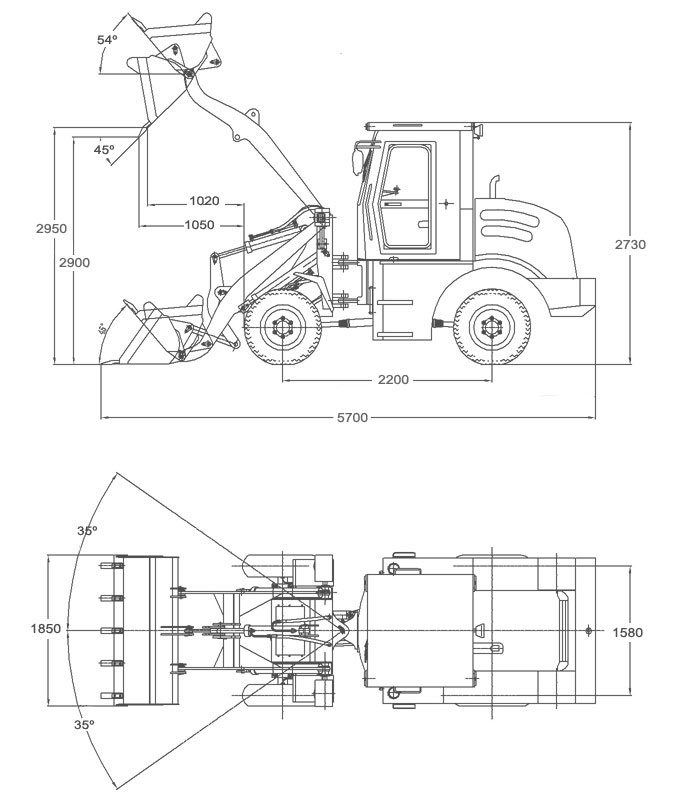 One of the main features we are proud of the RC16 is its structural design. This powerful vehicle has a full length (standard bucket on ground) of 5700 mm, a 1850 mm width and a 2200 mm wheel base. This optimally designed structure allows the operator to work with heavy loads (1600 kg /1.6 t) in a safe environment.

3. Controls & Drive System
Maximum productivity and comfort being top priorities, the RC16 wheel loader has been developed with an integrated luxury cabin. Its E-mark seat, adjustable steering, back camera and electric gear shift function on a single joystick are only some of the features which make the RC16's interior the ideal working space for any experienced and new on the job operator.

The RC16 drive system is formed by a YJ1 240 torque converter, a fixed-spindle power shift gear box (2 advance and 2 reverse positions), a CBN-E316 drive pump (16ml/r), a main arc cone gear first reduction retarder and the front and rear axis (820 mounted distance).

Click on the 'RC16 Technical Performance Parameters' for more details
4. Photos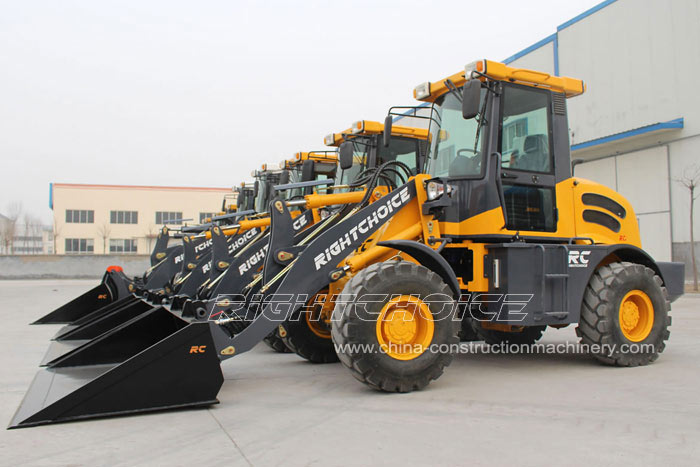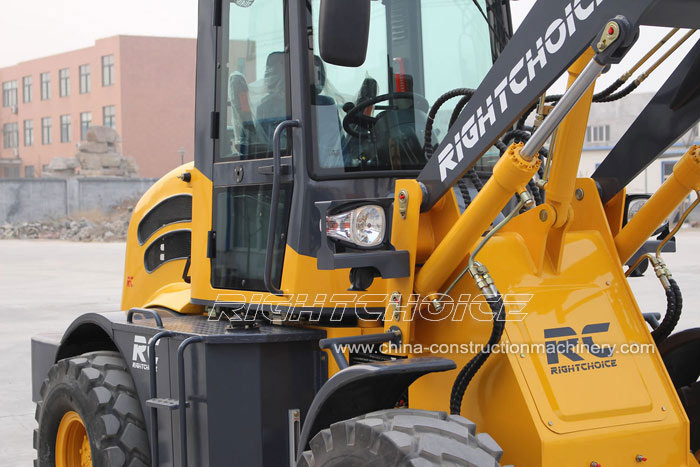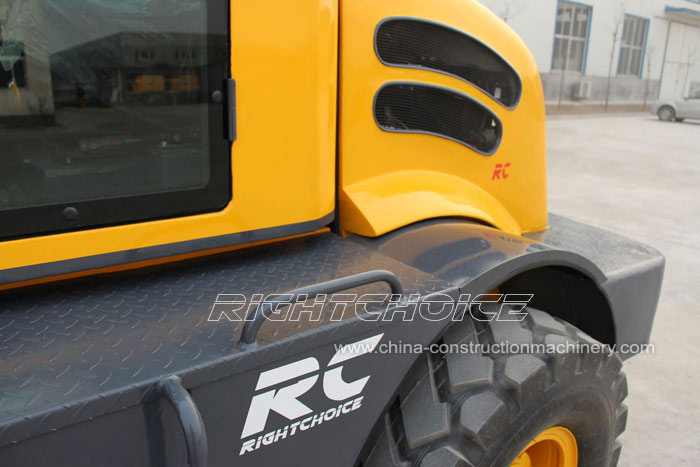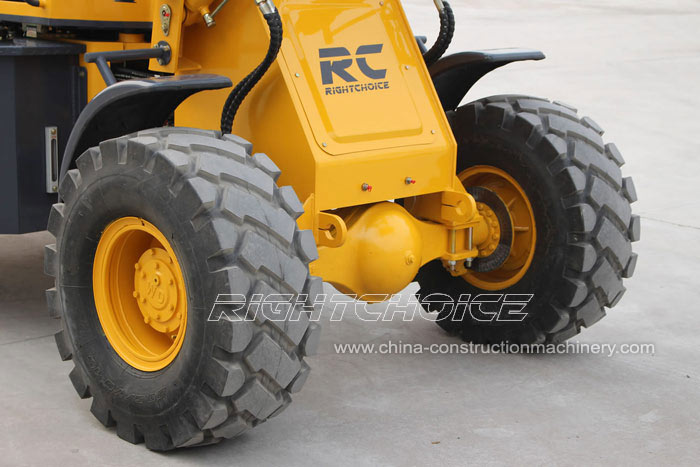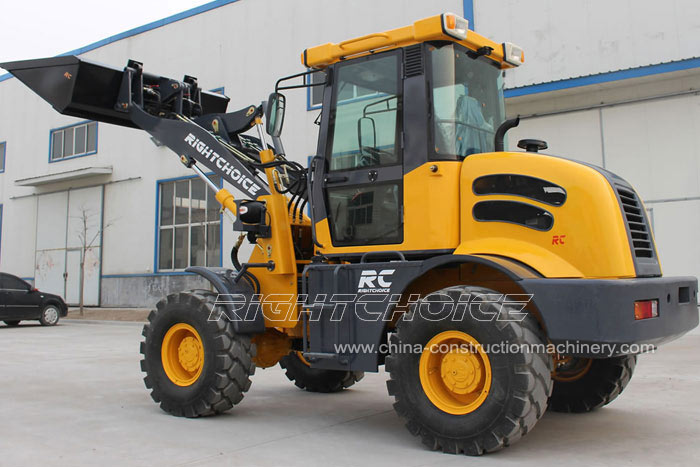 Click for more pictures of RC16 compact wheel loader

If you need any assistance regarding the RC16 or any of our China front end loader models, please do not hesitate to contact us. You can either send us an email or use the below contact form. A friendly sales member will reply to your inquiry within minutes. If you do not receive a confirmation email within 30 minutes please make sure you check your 'junk mail' box.