Durable and cheap loaders
Mini Loaders - RC908 with CE
RC908 Durable & cheap loaders - Engine
Basic Dimensions
Model
PERKINS 403D-11
Length
3690 mm
145"
Power
18.5 kW
24.8 hp
Total width (reverse tyre)
1050 / 970 mm
41" / 38"
Speed
2800 rpm
Height
2300 mm
91"
Torque
67 Nm
Ground clearance
200 mm
8"
Fuel consumption
252 g/kw hr
Dumping height
2000 mm
79"
Cubic capacity
1131 cm³
Dumping reach
600 mm
24"
Wheel base
1340 mm
53"
Performance
Operating weight
1470 kg
3241 lbs
Additional Specifications
Lifting weight
600 kg
1323 lbs
Outside face of bucket
1989 mm
78"
Driving speed
12 km/h
7.5 mph
Outside face of tyre
1469 mm
58"
Sum work device
8 sec
Tyre features
27*8.5-15TL
Hydraulic working pressure
305 bar
Max. turning angle
± 68°
Delivery time: 20 - 30 days

FOB Qingdao, CHINA

Minimum Order: 1 unit

Guarantee: 12 months
+ Pictures of RC908
Mini Loaders RC908 with CE - Features & Specifications
Durable & cheap loaders - The RC908 mini loaders combine great maneuverability due to their compact size and strength as they are powered by a 24.8 hp power PERKINS 403D-11 engine. This mini loader is manufactured with both a canopy top and a closed cabin.
With a lifting weight of 600kg and an array of attachments like its 4 in 1 bucket, grass fork, bladder, snow bucker and digger this multi-functional mini wheel loader has an endless range of uses. From farm work and snow removal to earth moving and construction works, the RC908 mini loaders will always provide a fast, efficient and low fuel consumption service.
1. Engine - PERKINS 403D-11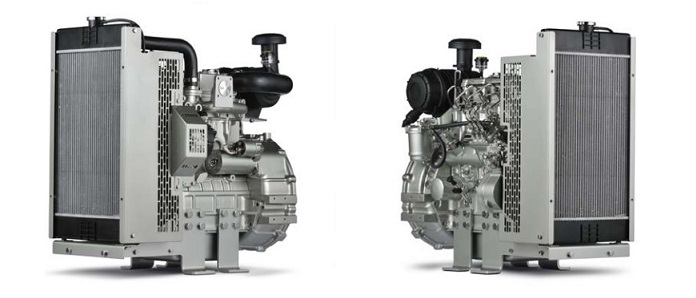 The PERKINS 403D-11 is a 3 cylinder diesel engine with a 1131 cm³ cubic capacity. This high quality compact engine has a 18.5 kW (24 hp) power at 2800 rpm. It complies with EC (Stage IIIA) and US (EPA Tier 4) emission regulations meaning that it can be used in the US, as well as in all European countries and regions worldwide. The PERKINS 403D-11 is a durable engine with a 6,000 hour reliability.
2. Dimensions & Loader Capacity
A 3690 mm total length (standard shovel) 1050 mm total width and 68º maximum turning angles the RC908 can wiggle around even those tightest angles in enclosed spaces.
3. Controls & Drive System
The multifunctional hydro-electric joystick control delivers the operator an effortless control over the machine. From here the driver has total control over the vehicle and all tool attachments. Without having to get off of the vehicle the operator is able to quickly couple and de-couple all attachment thanks to the RC908 incorporated hydraulic exchange system. This efficient mechanic system allows the RC908 to quickly become a multi-functional machine.
4. Photos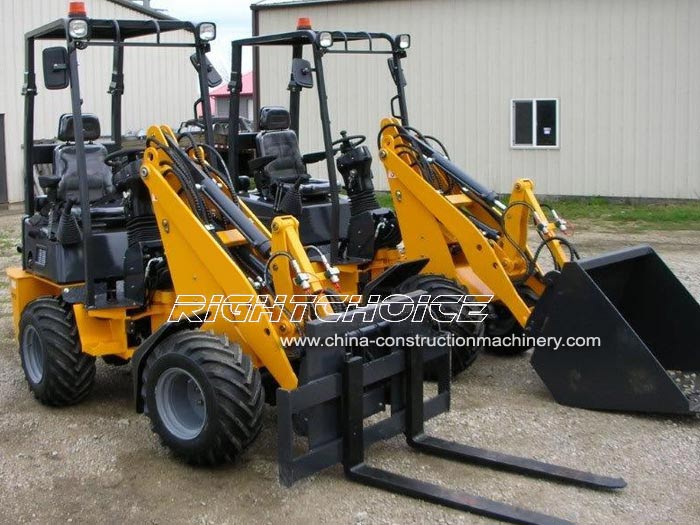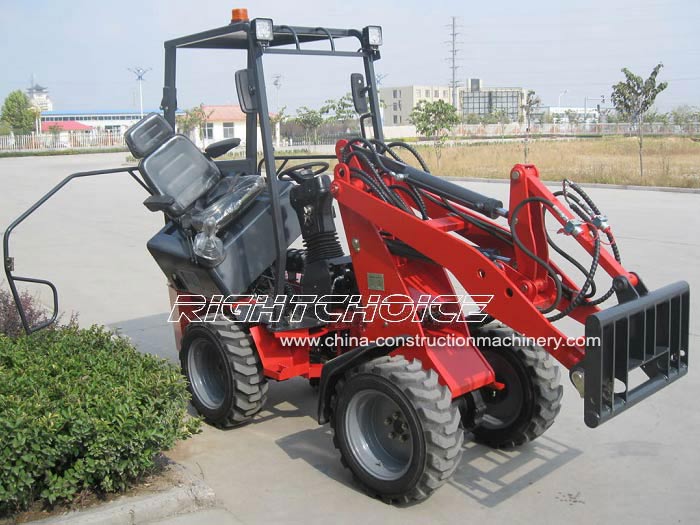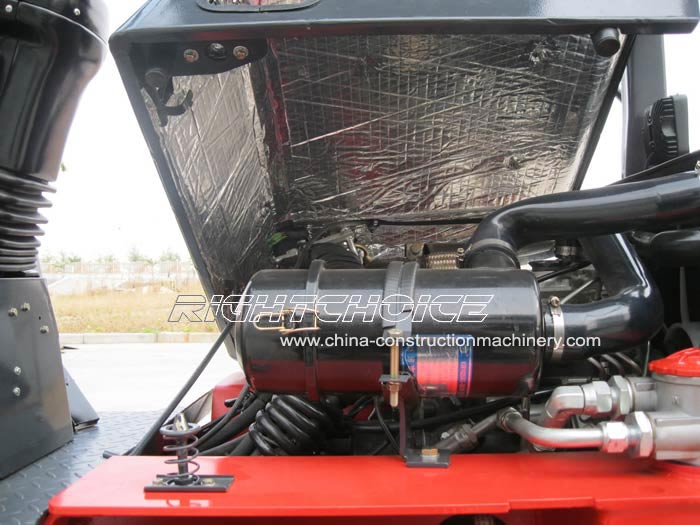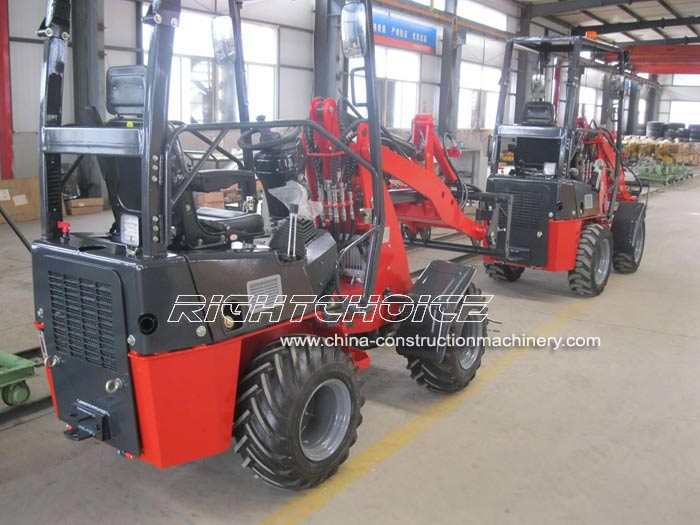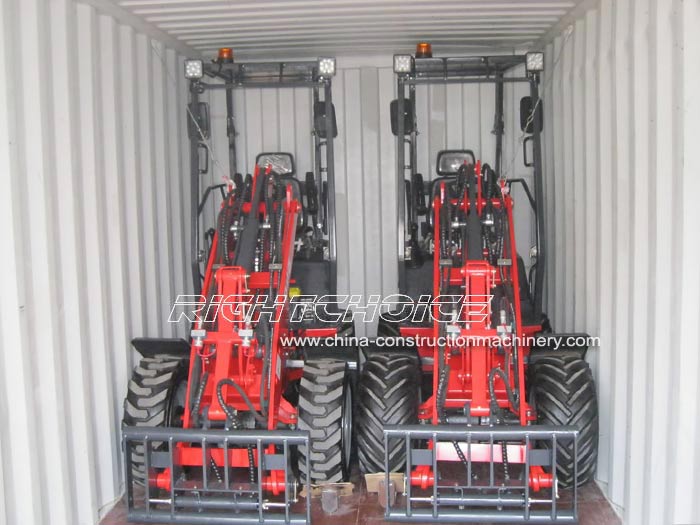 Click here to see more pictures of the RC908 Mini Loaders
5. Mini Wheel Loader Attachment
| | | |
| --- | --- | --- |
| European Grass Fork | Ploughing Machine | Snow Blower |
| | | |
| Digger | Sweeper | Fork Pallet and Adjustable Fork Pallet |
| | | |
| 4 in 1 Bucket | Grass Fork | Snow Blade |
| | | |
We also manufacture a variety of wheel loader attachments for the RC908. Including the above we have adjustable fork pallets, grass cutters and a range of augers with and without cutting heads of 150 mm, 200 mm, 300 mm, 400 mm, 450 mm and 600 mm. For more information on these please feel free to contact usl.
If you are looking for reliable and cheap loaders please feel free to ask us for a quotation on the RC908 mini loaders.